I haven't posted since Thursday. Let's see what there is to add. I am right now working on Mariah. I am up to row 3 on Chart C. Row 2 was the first time EVER that I have done a YO. Thanks to
knitting help.com
, I realized how easy it is!
Malik had a Chess competition on Saturday from 8:30 - 3:00 (that is what they told us, it actually ended at 1:30.) I brought my brother's sweater with me to weave in ends. I finished that. Yesterday I worked on seaming it up - I didn't work on it too much, though, cause I want it to be done too much - no longer inspired with it. However, it is close.
I started a sweater for myself the other day. It is out of
The Purl Stitch book
. The two toned top. Except I am using only one color. Sort of a burgundy.
I found a sweater for my dad for father's day or his birthday - only 11 days apart this year. It is in
Vogue Knitting Special for Men
magazine. I don't remember the name of it, but it is shown on page 65. I had to do some research on yarn to use, and I think I am going to get Dive/Lana Borgesesia Cotone Egitto from
WEBS
. The total will be $61.83. It is the best price I found.
A guy that works here finally got around to asking me what my desktop on my computer was supposed to be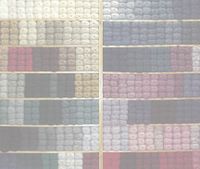 My desktop

I think he had been wondering for awhile. So I said "Yarn, of course." He asked me if I sew and I said, no, cause I hate it. He said that is strange, and I said not really - a lot of knitters hate sewing. (Not all, I realize - I just didn't want to be strang(er than I am)). He said that it is too bad because if I sewed, I could actually make something useful! WTF. He has something about wearing red socks on/for Christmas. Guess what he is getting next year from me!!!
Well, I guess that is it for now.
More tomorrow (or the next day).