So, I haven't had much knitting content lately, but my phone is finally working, so here are some late pictures...
Here is the Knit Picks yarn my Secret Pal sent me. I am planning to wait to start the dying, because I don't know what the smells will do for me, although I don't have much time with baseball season in full swing. I do want to try it, though. Hopefully, in June.

Here is the selection of Kool Aid and Starbursts. I forgot to get a pic of the great soap!

Here is the Pasha I knitted for DeAndre' for his birthday.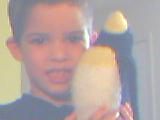 The first thing ever knitted for the baby. I used Ann Budd's book, but had to modify the pattern A LOT!!! The pattern called for worsted weight 74 stitches cast on. I used, instead, 50.