No knitting content, today. Just ultrasound pics.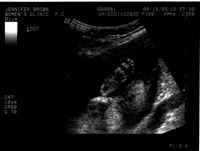 Foot

This is the foot. You can make out the toes and the heel.
Leg and foot

This is the leg with the knee and the foot.
Profile

This is the first of three profile shots.
Profile with hand

This profile has "its" hand in the air over "its" forehead.
Blow-up of profile

This is a blown-up pic of the profile.
The boys came. They thought it was cool for about five minutes. Then they wanted to leave. It is SOOO nice to have a "real" doctor (nothing against county, it isn't thier fault they have no money). Plus, I really
like
this doctor. She did suggest that I might consider having a c-section, though. I had bad tears with both boys, and there are residual side effects. Having another baby vaginally might cause my residual side effects to get worse. I'm not sure how I feel about this, but I am NOT ruling it out at this point.