The thing I like least about blogging is coming up with titles.
Anyway, I wove in most of the ends on the front of Ben's sweater last night. Today will be a "lots-of-time-for-knitting-day" I have a lunch seminar, and then a "class" tonight. Seminar is an hour, class is an hour and a half, and I can knit in both the whole time. Plus the commute on the bus, which is a total of an hour. Therefore, last night I also started on my sock for the first time socknitters along. I needed to make sure I had some mindless knitting to do today. I am working on Mariah's right front, and I am up to about 7 1/2". I have to stop at 13", so I am almost done with that. I think after I finish that, I will have to put her on hold until after my deadlines are met on other projects. Those sleeves probably won't be portable for me.
Make eyes on DeAndre's penguin. Go to JoAnn's to get some embrodiary thread. Due Feb 2
Last sleeve, weave in ends, seam and block Ben's sweater. Due Feb 9
Malik's teddy. Not due until April 28.
I will start my Fair Isle hat class on Saturday. That ends Feb 19.
Finish my darn sweater that has been a WIP for maybe 2 years and is almost done.
Malik has a sweater he wants fixed.
None of this is really portable. That means I will have socks with me for awhile. I am proud of the start of my socks. It is 2X2 rib, and so far I see no mistakes.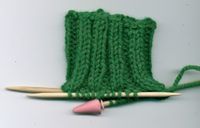 Sock

I think that is all.